Waterproof Pointed Range Oven Food PT1000 Meat Probe Thermistor Temperature Sensors
I Application Of The Food PT1000 Meat Probe Thermistor Temperature Sensors
* BBQ
* Stove
* Range Oven
* Smoker
* Grill
* Bake
II Description Of The Food PT1000 Meat Probe Thermistor Temperature Sensors
Food safe is one of most important theme today and how we can ensure food cooked can be eated. Meat probe can help you to know when can eat food safety. Meat probe made of food grade stainless steel 304 inside high accuracy ntc thermistor and connected with high temperature cable, as well as connector added to connect with other devices, also can be wireless by bluetooth etc high tech technology and we can measuring temperature of food easily , then you can enjoy your delicious dinner.
III Features Of The Food PT1000 Meat Probe Thermistor Temperature Sensors
♦ High Accuracy
♦ Single measuring point or multi measuring point
♦ Food grade SUS304
♦ Steady NTC Thermistor used,even Japan imported
♦ Custom made available
♦ Strong technical support
♦ Short delivery
♦ High temperature cable options
♦ All kinds of connector to be choosed
IV Parameters Of The Food PT1000 Meat Probe Thermistor Temperature Sensors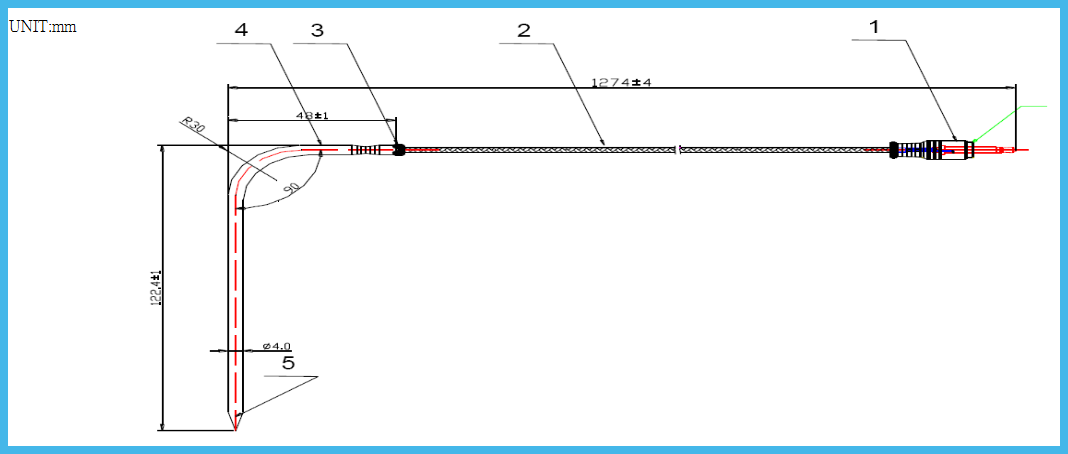 | | | | | |
| --- | --- | --- | --- | --- |
| No. | COMPONENT | MATERIAL AND SPECIFICATIONS | Q'TY | REMARK |
| 5 | ELEMENT | ACU CHIP | 1 | |
| 4 | HOUSING | Stainless Steel Probe(S304) Φ4 | 1 | |
| 3 | Tube | PTFE 12T | 1 | Grey |
| 2 | LEAD WIRE | Braided cable AWG26 380℃ | 1340 | |
| 1 | CONNECTOR | Mono plug jack, 2.5mm | 1 | Black |
V Performances Of The Food PT1000 Meat Probe Thermistor Temperature Sensors
RESISTANCE AT 25℃ (ohms)
B COMSTANT (25-85)
TEMPERATURE ℃
THERMAL TIME CONSTANT (SEC.)
THERMAL DISSIPATION CONSTANT (Mw/℃)
H17 Series
PART No.:
R25:100KΩ ±1%
4070
-40℃ ~ 350℃
Max. 8
≧2.5
CWFB1104FC-142M
VI Other model Of The Food PT1000 Meat Probe Thermistor Temperature Sensors
Frequently Asked Question FAQ

Q: Are you manufacturer ?
A: Yes, we are manufacturer and distributor of famous brand such as Littelfuse.
Q: Which city does your factory in ?
A: Dongguan City,Guangdong Province, China
Q: May i know your working time ?
A: Official working time is 8:00 ~ 12:00 AM, 1:30 ~ 5:30 PM.However, sales in our overseas department will do overtime working and 7x24hours online.
Q: Do you accept custom made ?
A: Yes, we are professional in customization model based on rich experiences and professional engineering.It's helpful if you can provide drawing or detailed specification should be.
Q: May i know your lead time ?
A: Lead time is 7 days for standard model and exact lead time depend on detailed requirements if special model selected.
Q: May i receive samples before place order ?
A: Yes, generally samples is free but sample cost should be charged if quantity is too many ,product cost is too much or new mould fee required.
Q: What's your payment terms ?
A: T/T, Paypal etc.
Q: What's currency you can accept ?
A: Mainly US dollars and Chinese Yuan
Q: Does your package method safe for transportation ?
A: Yes, our package would be 10~1000pcs per plastic bag -> multiple bags per box -> multiple boxes per carton and it is safe for express/air/boat shipment.
Q: What's your MOQ ?
A: In general , MOQ is 1000pcs and different for special model.
Hot Tags: Oven PT1000 4070K Thermistor Temperature Sensors 100KOHM Food Temperature Probe, China, Manufacturers, Suppliers, Factory, Made in China, Wholesale, Buy, Customized, in stock, Bulk, Free Sample, Cheap, Discount, Buy discount, Low price, Price, Price list, Quotation