MZ9 1000 OHM 230V Surface Mount PTC Thermistor 180C Aluminum Heating Element

B59102R0180A010 Cross PTC Thermistor Heating Element 1000 OHM 180C 230V For Hot Glue Gun
I Features Of The PTC Thermistor
• Quickly heats up to desired temperature.
• Its temperature is uniform and never gets red hot, making it very safe.
• PTC's self-temperature-control effect prevents excessive heating.
• The PTC's self-temperature-control function ensures power savings.
• Users can select their desired temperatures.
• High accuracy temperature within ± 8 ℃ or less.
• High withstand voltage up to 500VAC or more.
• Complete specifications.
II How PTC Thermistorworks
Thermistors for heaters require safety and power saving performance. The PTC quickly heats up when current flows through it. The Thermistor reaches the heating temperature evenly throughout its entire structure. The heating temperature can be controlled by adjusting the construction of PTC's material make-up. In addition, because PTC THERMISTOR maintains a constant temperature thanks to a balance between heat generation and heat dissipation, it will not exceed the heating temperature.
III Application Of The PTC Thermistor
Some of the different types of applications that utilize the self-heated characteristics of the PTC thermistor include:
• Self-Regulating Heaters
• Over-Current Protection
• Liquid Level Sensing
• Constant Current
• Time Delay
• Motor Starting
• Arc Suppression
• In-vehicle supplemental heaters
• Facial massage heaters
• Condensation-prevention heaters for office equipment
• Clothes drying heaters
• Defrost heaters for refrigerators
• Electric Vehicle
• Electric Bus
• Liquid Heaters
• Thermostat
• Hot Gun
• Warmer
• Mosquito Dispeller
• Straightener and curler
• Air conditioner
IV Size Of The PTC Thermistor (mm)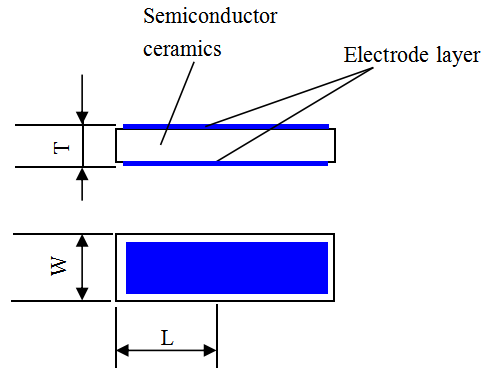 | | |
| --- | --- |
| P/N | MZ9L-180CL35W6.2T2.0-230V1 |
| Length L | 35±1mm |
| Width W | 6.2±0.2mm |
| Thickness T | 2.0±0.06mm |
| Missing edges | ≤0.5mm |
| Flatness | ≤0.05mm |
V Specifications Of The PTC Thermistor
Item
Requirements
Test Conditions
QTY
AC/AQL
Resistance value at room temperature
0.5-1.5KΩ
Test environment temperature:25±2℃
Ⅱ

AQL

0.4

Rated Voltage
230V
Max Voltage
265V
Electrode material
aluminum
Power on voltage
350V/20S,450V/40S
Ⅱ

AQL

0.065

Surface temperature
180±5℃(Single)
Test environment temperature:25±2℃
4 pcs
AC= 0
Electric shock current
0.5-1.5A
Test environment temperature:25±2℃
8pcs
AC= 0
Electrode layer adhesion
No aluminum dropped
Use 3M adhesive tape
10
AC= 0
VI Design Considerations Of The PTC Thermistorfor Standard Heaters
When selecting a PTC, you should consider the following factors:
Thermal Connections
Switch Temperature (Ts)
Resistance at 25 °C (R 25)
Surface Area
Maximum Voltage (Vmax)
Figure 12: Resistance vs. Temperature for a PTC
Ceramic PTC heaters are usually most efficient when they are flat and thin and have a smooth surface finish. For a PTC to operate as a heater, it must have a way to dissipate its heat to the medium, either by convection (air or liquid flow) or conduction. One common method is to use a spring contact as both the electrical and mechanical connection (See Figure 13). One advantage of this "clamping" technique is that it allows stress-free thermal expansion. Other techniques involve using electrically conductive epoxies or solder joints to connect the PTC to the heat spreader.
The switch temperature (Ts in Figure 12) is very important because, in most heater applications, the maximum surface temperature of the PTC is just a few degrees above its switch temperature. Thus, the maximum temperature of the medium to be heated is directly related to the switch temperature Ts of the PTC.
Figure 13: PTC Heater - Transfer
The R25 of the PTC heater is typically not the most important design factor. It should not be so low that it causes inrush current problems, but not so high that there is not enough power available to heat the PTC to its switched condition. The PTC cold resistance will, however, influence the heat-up rate of the medium since a lower resistance allows for higher initial I2R heating.
The surface area of the PTC heater influences the heat-up and cool-down rates of the medium as well as the power dissipated. Multiple PTCs are often used in heater design to obtain the desired results. As with any PTC thermistor application, the heater design should not exceed the maximum recommended voltage ratings. The maximum Voltage (Vmax) specified on the MS data sheets is for DC or 60Hz AC only.
VII Other Model Specification Of The PTC Thermistor
| | | | | | |
| --- | --- | --- | --- | --- | --- |
| Model | L(mm) | W(mm) | T(mm) | Ts(℃) | Vr(VDC) |
| MZ43W240-100(220) | 17 | 10 | 2.4 | 110±8 | 220 |
| MZ43R210-260(110) | 25 | 4.7 | 2.1 | 270±8 | 110 |
| MZ45T250-255(110/220) | 27 | 16.5 | 2.5 | 260±8 | 110/220 |
| MZ45E230-200(220) | 30 | 15 | 2.3 | 210±8 | 220 |
| MZ45S290-100(220) | 35 | 8.8 | 2.9 | 110±8 | 220 |
| MZ45M240-272(220) | 27.5 | 14.7 | 2.4 | 285±8 | 220 |
| MZ43A245-272(110) | 34.5 | 6 | 2.45 | 285±8 | 110 |
| MZ43F245-212(220) | 36 | 7.8 | 2.45 | 220±8 | 220 |
VIII Packaging Of The PTC Thermistor
Bulk,10K per carton,22..5kg per carton,25*25*25cm
XI PTC Heating Element Overview Of The PTC Thermistor
PTC heating element refers to the automatic temperature control PTC ceramic heating element, a special ceramic material. Its production process is as follows:
Weighing milling >> >> >> granulated pre-sintered
Sintered molding >> >> >> >> resistance on the electrode separation
>> Crimping package assembly >> >> >> withstand voltage test of trade marks
>> >> Final testing resistance detection >> Packaging >> storage
PTC heating thermostat heating principle is: when the PTC heating element is energized, because the room temperature resistance is small, so the starting current is large, make the PTC heating element heat up quickly, leading to a rapid increase in resistance value itself into the transition zone, which when the current through the PTC heating element is very small, so that PTC heating element surface temperature is always maintained constant, the temperature only with PTC heating element of the Curie temperature and applied voltage, and substantially independent of the ambient temperature.
Frequently Asked Question FAQ
Q: Are you manufacturer ?
A: Yes, we are manufacturer and distributor of famous brand such as Littelfuse.
Q: Which city does your factory in ?
A: Dongguan City,Guangdong Province, China
Q: May i know your working time ?
A: Official working time is 8:00 ~ 12:00 AM, 1:30 ~ 5:30 PM.However, sales in our overseas department will do overtime working and 7x24hours online.
Q: Do you accept custom made ?
A: Yes, we are professional in customization model based on rich experiences and professional engineering.It's helpful if you can provide drawing or detailed specification should be.
Q: May i know your lead time ?
A: Lead time is 7 days for standard model and exact lead time depend on detailed requirements if special model selected.
Q: May i receive samples before place order ?
A: Yes, generally samples is free but sample cost should be charged if quantity is too many ,product cost is too much or new mould fee required.
Q: What's your payment terms ?
A: T/T, Paypal etc.
Q: What's currency you can accept ?
A: Mainly US dollars and Chinese Yuan
Q: Does your package method safe for transportation ?
A: Yes, our package would be 10~1000pcs per plastic bag -> multiple bags per box -> multiple boxes per carton and it is safe for express/air/boat shipment.
Q: What's your MOQ ?
A: In general , MOQ is 1000pcs and different for special model.
Hot Tags: MZ9 1000 OHM 230V Surface Mount PTC Thermistor 180C Aluminum Heating Element, China, Manufacturers, Suppliers, Factory, Made in China, Wholesale, Buy, Customized, in stock, Bulk, Free Sample, Cheap, Discount, Buy discount, Low price, Price, Price list, Quotation